How to track your RV with a GPS
Need to install or update your RV's GPS tracking system but not sure where to start looking? In this guide, we'll break down the key features of this technology and explain how GPS tracking works.
We'll also walk you through the things you need to consider when choosing a caravan GPS tracking system and reveal why Black Knight is typically the easiest and most effective solution (particularly if you plan on hiring out your caravan to others!).
What is a GPS?
A GPS is a Global Positioning System, originally designed for military use by using satellites to pinpoint precise locations around the world in any climate conditions. 
Satellites in the earth's atmosphere use latitude and longitude measurements to accurately determine the location of a GPS receiver. At any given time, a GPS unit may be visible to at least four satellites around the globe, and the transmission of the unit's location data is then sent via a telco network with a time stamp, geographical information, as well as travel speed.


It is worth noting that while GPS tracking is via satellite, this information requires a telco network for the transmission of coordinates. This means if the tracker is in an area that is out of reception, there may be delays to real-time updates. The GPS signal will still continue to log travel history and update this information once a connection is re-established.
Is GPS tracking legal?
GPS tracking devices are completely legal, both for private use and for businesses. The one condition of legally tracking via GPS is to notify whoever will be tracked that the tracking is taking place. For owners who hire out their van on Camplify, this means letting your hirer know that you have a GPS tracking device fitted to your van. The hirer should have expressed or implied consent prior to the commencement of tracking.
GPS navigation is common in modern cars, either built-in or with an additional display
Do you need GPS tracking for hiring out a caravan?
At Camplify, we recommend investing in a GPS tracker for your beloved asset. A caravan is a significant investment for anyone, and we understand how passionate our community is about #vanlife!
A surveillance solution such as a tracking system provides four key benefits to a van owner:
Safety and security

 

- with the ability to track location, distance, and speed, you are protecting your asset from misuse and theft

You have

 

peace of mind

knowing that you have 24/7 visibility of your asset

You are able to track and

 

communicate with the hirer in real-time

You have

 

evidence to provide

in the event of a claim
To make tracking your van even easier, we offer a subscription service via the
Camplify Store,
where Premium Members also receive an exclusive 20% discount on Black Knight GPS trackers. We also offer the ability to centrally manage the GPS unit by logging into the tracking interface via the Camplify owner dashboard.
Visibility of trip start, finish and stops in between
Choosing the best caravan GPS tracker
There are various options when it comes to selecting the right caravan GPS tracker for your situation. Check out the factors to consider below:


Tracking alerts
Vehicle GPS trackers can track and measure a few different aspects of how your vehicle is being used, depending on how they are set up. The beauty of a tracking system is that you can set up your device to send you an alert when any of the parameters you set for your device are exceeded.


Geofencing
A geofence is a virtual barrier, which in the context of van GPS tracking, is set around your tracker. Geofencing defines a set area of where your van or vehicle is permitted, and a notification for if the van or vehicle leaves this set area.
This is a particularly popular tracking mechanism for van hire, as many caravans are not permitted to drive off-road. GPS tracking enables van owners to have evidence of any van misuse in real-time. This assists owners to contact the hirer and confirm they need to proceed back to the agreed route, or if necessary, provide evidence when making any form of damage claim.
Speed Limit Alerts
This can be useful for ensuring your van or vehicle is being used correctly. For example, understanding if a van is being towed too quickly on a particular road if you know that road to be dangerous; if your van is vintage and you'd prefer any driver takes it easy on the old girl; if the total mass of the vehicle and caravan does not permit a speed limit to be exceeded.
This again is a powerful measurement to either contact the hirer directly to check in with them, or alternatively be able to provide evidence of misuse.


Travel Distance Alerts
For caravan owners, understanding how far your van is being towed (and where it is being towed to) is an important part of taking care of your asset. Additionally, trusting your asset to a stranger to use usually involves agreeing to the destination of the van's adventure.
Therefore, it can be important to be notified if your van exceeds 2,000 kilometres, or 5,000, or 10,000 - there is a lot of land to cover in Australia, and the temptation to keep going and explore more is part of the road trip fun.
However, if your van has covered more distance than agreed, this can cause issues on agreed hire timeframes, the type of terrain being covered, and generally knowing your hirer is keeping to your agreement.
This mechanism as well is useful for evidence of any default on destination agreements or kilometres included in the trip.


Power alerts
For GPS trackers that use an ongoing power supply, some units will send a notification when power is disconnected. For wireless units such as the Black Knight GPS tracker, a notification will be sent when the tracker is low on battery.


Playback
A vehicle GPS unit is designed to be able to store the data received from the unit over a period of time. This can be handy for reminiscing on your road trips, but also the ability to playback and check where your van has travelled when out on hire.
The Black Knight system allows you to customise your view of this data via the website and app. You can select any preset or custom date range in playback mode within the last year, as Black Knight conveniently stores 12 months of data. You can also easily export your data into a CSV file to share or store a copy of your records locally.
Playback mode will provide useful trip information, such as latitude and longitude, the vehicle's speed, and the time the location impression was made. You can also check when and where the vehicle started and finished the trip, including any stops.


Mounting & power supply
Different styles of GPS trackers are mounted in different ways. Most controllers need to be installed with an ongoing power supply and therefore as a static unit. We specifically look at Black Knight as a fit-for-purpose caravan tracking option as the unit is fully mobile with a chargeable battery. 
This means that any suitable vehicle can be tracked without having to install the GPS tracker in the vehicle at all!


Interface
Vehicle GPS trackers can be interfaced via a website browser or mobile/tablet application. A mobile device such as a phone or tablet is perfect for installing your tracking application, as this will allow you to receive instant notifications wherever you are.
For the Black Knight GPS tracker available through Camplify, you can set up your van tracking from the Camplify owner dashboard. 
Subscription
While GPS tracking via satellite is free to use for the public, the use of a cellular network is not free. Therefore, many GPS devices offer an ongoing subscription, much like a phone or internet service. A subscription ensures that satellite data can be transmitted securely to the GPS host servers via a telecommunications network. 
We recommend purchasing a GPS tracker on a subscription service, as there is no upfront payment required to purchase the unit, only the ongoing monthly subscription fee.
A Black Knight subscription with Camplify is $29 per month
What are the benefits of a Black Knight GPS?
The
Black Knight GPS
is a trusted, high-performance, portable tracking device with real-time tracking and intelligent alerts. Black Knight devices are network certified and have been extensively tested, providing a superior surveillance solution.
A key benefit of the Black Knight GPS is its ability to track in real-time, with a high accuracy level of 15-second position updates. In addition to the accuracy of tracking, this can also be tracked remotely via the Black Knight app, straight to your mobile.
Your Black Knight account can be connected from the Camplify account menu to remotely monitor the global positioning of the van or vehicle from the website or app. Registering your product is easy and can be completed in a couple of minutes.
The unit itself is also completely mobile (and smaller than a mobile phone), with no fixed wiring, making it the perfect option to swap between vans or vehicles as required.
The unit is also protected by a heavy-duty casing, designed for its mobility. You can have peace of mind knowing wherever you place the unit in your van, there will be no issues with knocks and bumps on the road.
The unit can be charged via a USB connection and located anywhere inside a van or vehicle to successfully track. At Camplify, we recommend charging in between hires to ensure the unit is fully charged prior to each trip.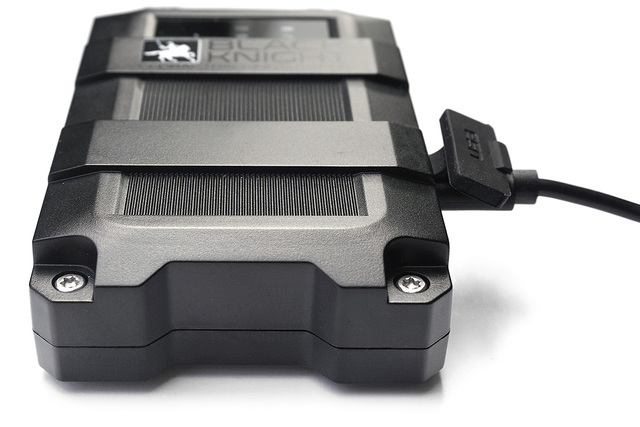 The Black Knight GPS's sleek and discreet unit design

Ready to start tracking your van?
Buy your Black Knight GPS tracker here.


Earn a return on your caravan
There's a quick and easy way to start earning a return on your caravan GPS tracker - rent out your caravan on Camplify when it's not in use!
Instead of letting your caravan sit idly in the driveway, hire it out and make money from the comfort of your own home, with an asset you've already invested in. And with a Black Knight GPS tracker, you'll know exactly where and how your asset is being used while on hire.
---